American Civil War Surgical Antiques
Research and Identification
Civil War Era Surgical Sets, Surgeon's Images
Civil War Surgeon Education & Medical Textbooks

Established 1995 . Dr. Michael Echols Collection
As seen in: Warman's Civil War Collectibles, Antique Week, Northeast Antiques, and various TV programs, Antiques & Collecting publications
Tripler's Form For Examining A Recruit, Sept. 1862
Form signed by 'Inspecting Surgeon' John M. Smith
"To be filled up according to instructions in Tripler's Manuel"
Tripler's book is in the Echols' collection
Click on image to enlarge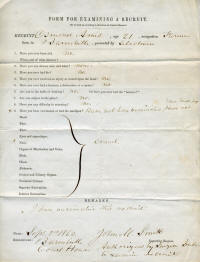 Recruit: Osmond Ames, age 21, occupation: farmer
Vaccinated for smallpox
Examined by John M. Smith, who was authorized by Surgeon Gale
Town of Barnstable, Hyannis, Mass.
History of the Forty-fifth Regiment, Massachusetts Volunteer Militia, Company D:
AMES, OSMOND Private. Age 21, Barnstable (Osterville); entered. Sept. 12, 1862; m. i. Sept. 26, 1862. Discharged on S. C. of D. Oct. 30, 1862, as Rejected Recruit. (See M. O. R.)

Private Osmond Ames, company D, 45th Mass Vols (9 month regiment). Residence, Barnstable, Ma., Mustered Sept 26, 1862; Termination of service - October 30th, 1862

Private Osmond Ames age 21 discharged for disability.

Osmond Ames listed as either seriously ill or wounded during the Civil War.
Today, Barnstable is a world-renowned tourist destination. Many prominent Bostonians spent their summers on the Cape shores, as did Presidents Ulysses S. Grant and Grover Cleveland. However, the most famous family to summer in the town was, and still is, the Kennedy family, who can still be found living in the Kennedy Compound in Hyannis Port. It was the summer home of President John F. Kennedy during his administration, and it was likewise the home of Senator Ted Kennedy until his death.
During the Civil War: While there were many volunteers, of 914 men in Barnstable County that were drafted, only seven actually served in the military, the remainder either purchasing substitutes or being physically unfit. Two of those draftees that did see action were African Americans, Charles Ellis of Hyannis and George Clark of Sandwich. Fifteen Cape men were captured and imprisoned in the infamous camp at Andersonville, GA. Only three survived to return home.
American Civil War Medicine & Surgical Antiques Index

Contact Dr. Arbittier or Dr. Echols
Civil War Medical Collections

Direct links to all medical & Civil War collections on this site

American Surgical Sets:

Pre-Civil War: 1 | 2 - Post-Civil War: 3 - Civil War 1861-1865: 4 | 5 | 6 | 7 | 8 INDEX

Medical Text-Books:

1 | 1a | 2 | 2a | 3 | 3a | 4 | 4a | 5 | 5a | 6 | 7 | 8 | 9 | 9a | 10 | 11 | 12 INDEX

Surgeon General's Office Library printed catalogues:
1840 | 1864 | 1865
Medical Lecture Cards:
1 | 2 | 3 | 4 | 5 | 6 | 7 | 8 | 9 | 10 | 11 | 12 | 13 | 14 | 15 | 16 | 17 | 18 | 19 | 20 | 21 INDEX

Medical Faculty and Authors:

Navy Surgeon Exams:

1863 Navy Surgeon Applicant Exams with Biographies INDEX ONE | INDEX TWO

Surgeon CDVs, Images:

Army: 1 | 2 | 3 | 4 | 5 | 6 | 7 | 8 INDEX

Hosp Dep't Bottles, Tins,

U.S. Army Pannier:
American Civil War Medicine & Surgical Antiques

Please request permission before commercial use or publication of any content or photos on this site and credit any use with: "American Civil War Surgical Antiques" All content and all original photography on this Web Site is copyrighted 1995 - 2015 and may not be used on any other web site or in commercial print without the expressed e-mail permission from Dr. Arbittier: Contact All rights reserved.

Students doing reports or projects are welcome to use the content of this site without permission, but credits would be appreciated.

Please note: information on this site may not be normally referenced as this is an active and long-term educational research project. Personal notes may not be properly cited for publication. Various articles are digitally reproduced under the 'fair-use act' of the copyright laws and are intended for educational purposes only. Many citations are from Google digital 'books' and can be traced backwards via a search of a unique string in the citation.
Last update: Monday, December 12, 2016