Frank Thomas Shaw, M.D.
U.S. Congressman from Maryland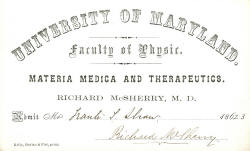 Univ. of Md, 1863-63
Name: Frank T. Shaw
Cause of death: uremia
Death date: Feb 24, 1923
Place of death: Westminster, MD
Birth date: 1841
Type of practice: Allopath
States and years of licenses: MD, 1906
Places and dates of practices: Westminster, MD, Oct 26, 1911
Medical school(s): University of Maryland School of Medicine, Baltimore: University of Maryland School of Medicine and College of Phys and Surgeons, 1864, (G)
Journal of the American Medical Association Citation: 80:866

Frank Thomas Shaw (October 7, 1841 – February 24, 1923) graduated from the medical department of the University of Maryland, Baltimore in 1864 and practiced medicine in Uniontown, Maryland, until November 1873. He was elected clerk of the circuit court for Carroll County, Maryland, in 1873, was reelected in 1879, and served until 1885, when he resigned. Shaw was elected as a Democrat to the Forty-ninth and Fiftieth Congresses, serving from March 4, 1885, to March 3, 1889. During the Fiftieth Congress, Shaw was chairman of the Committee on Accounts. He was an unsuccessful candidate for renomination in 1888. Shaw was elected to the Maryland House of Delegates in 1890. He served as State tax commissioner from 1890 to 1894, and was appointed by President Grover Cleveland as collector of customs for the Port of Baltimore, serving in that position from May 5, 1894, to May 24, 1898.