The 1861 edition is reproduced in two formats for the Jefferson Digital Commons. A large PDF file offers a faithful reproduction of the full volume. For greater ease of use, each chapter and plate grouping is also listed separately.
The above book is needed for this collection.
Additional discussion and details about: A Manual of Military Surgery, (1861) by Samuel D. Gross, M.D. from Rutkow: History of Medicine, p. 41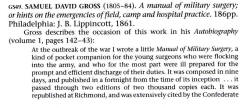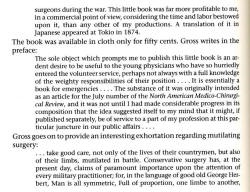 ---
In this collection is the 1866 4th edition of Gross's System of Surgery, Vol. I & II , which contains all the updates during the Civil War from the original version in 1859. These two books were from the 1869 Jefferson Medical School Library collection and have the School's label (shown below from the inside cover) attached in the book.
Medical School label from the inside cover of the above text