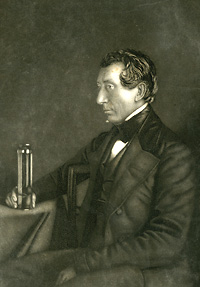 William Edmonds Horner, anatomist, was born on 3 June 1793 in Warrenton, Va., to William and Mary (Edmonds) Horner. On 26 Oct. 1820 he married Elizabeth Welsh of Philadelphia; they had 10 children. He died in Philadelphia on 13 March 1853.
As a child, Horner was educated in the schools of Warrenton and Dumfries. He later studied medicine under John Spence and received his M.D. from the Medical Department of the University of Pennsylvania in 1814. While in medical school, the War of 1812 began and Horner took time away from his studies to serve a commission as Surgeon's Mate in the U.S. Army. After the war ended, he resigned his commission and briefly set up private practice in Warrenton, but moved permanently to Philadelphia in 1816.
Horner spent his career at the University of Pennsylvania, where he held successive positions: Dissector (1816-1818), Demonstrator of Anatomy (1818-1820), Adjunct Professor of Anatomy (1820-1831), and Professor of Anatomy (1831-1853).
An excellent anatomist, Horner is known for describing the tensor tarsi muscle (1824) and for amassing thousands of specimens for the anatomy museum at the University, which later became part of the Wistar Institute of Anatomy in Philadelphia. He also was a founder of St. Joseph's Hospital (1841).
Horner's chief writings include The American Dissector (1819), A Treatise on Pathological Anatomy for the Use of Dissectors (1823), Treatise on Special and General Anatomy (1826), and Treatise on Pathological Anatomy (1829), the first American pathology textbook.